Stories at Sea is a series of interviews highlighting artisanal fishermen, fisheries, and suppliers who are furthering the seafood industry within Canada. We are here to tell their stories and to pass on their wisdom to the greater community.
Founded in 2014, Effingham Oyster is a British Columbia sweetheart. Owner and operator, Mica Verbrugge, raises his oysters from a collective of remote, deepwater fjords located in Barkley Sound, British Columbia. Only accessible by seaplane, or a two-hour boat ride, Effingham Inlet produces some of the very best, Ocean Wise oysters in the world.
We sat down with Mica to hear about how he got into the seafood industry and what it takes to be a successful oyster farmer.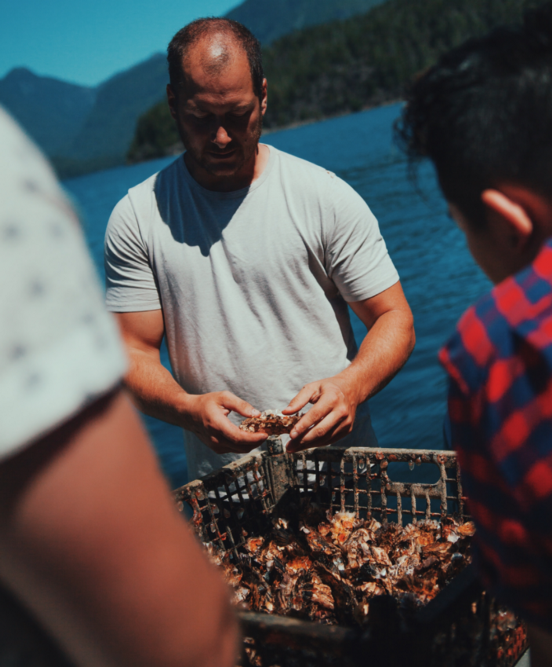 Hayley From Coastline: Mica, can you tell us about how you got introduced to the seafood industry?
Mica: When I was 18, I went to New Zealand and Australia for 8 months. I came back dead broke, owing my parents money. They said I could pay them back via logging, commercial fishing, or through working on an oil patch. I tried logging for a year. It was cool but too hot and cold.
A prawn fishing job came up, so I jumped at the opportunity. We were fishing out at sea for 70 days straight, 15 to 20 hours a day, every day. I made really good money. That kicked off my start in the industry.
How did you get introduced to oyster farming?
I was at sea, 400 miles west of California, when my buddy called me up saying 'we have to buy this oyster farm. It's being sold for pennies on the dollar'. I had no desire to look at a farm, as I was in the middle of tuna season. In 100 days, you're lucky to get 3 full days off. I didn't want to spend my little time off looking at a farm. I don't know how, but he talked me into it. We went up to Effingham Inlet to do our research. I brought with me a marine biologist from the east coast, someone who specializes in oysters because I didn't know where to start.
They showed us the farm, and we ran the numbers and verified the growth conditions. We also toured several oyster plants to verify demand, which was proven to be there. At that point, we knew we had to buy it. We reached out to TD bank for financing. They were very hesitant, but they came around, deciding to make me a guinea pig for financing within aquaculture.
The original farm started around 25 years ago in Effingham Inlet. They grew an oyster similar to what it is today. About 15 years ago, they put in a lot of infrastructures to make the farm extremely advanced. Not much else had been done since, and they were having problems getting seed to replenish the farm. This issue persisted for nearly 5 years, up until they decided to put the farm up for sale. I bought the farm in 2013 and the rest is history.

Why oysters?
In commercial fishing, the average catch is getting a bit less every year. This fact has been masked for some time by the increase in the value of the catch. 15 years ago we were getting 50,000 lbs of prawn a year. Last year, 15,000 was a good season. There is little to no room to scale or expand within commercial fishing.
Looking at the oyster farm, looking at the amount of area I have, I could do 100 to 150 million oysters. There is no limit to the number I can grow or the amount at which I can scale. Canadian supply is so small on a world basis. We have some potential international buyers, but we can't keep up with their demand. They won't even land their jet to pick our oysters up unless they can get 30,000 dozen a week at a minimum. In an ideal world, they want a shipment of 100,000 dozen oysters multiple times a week. We aren't quite there yet to meet that demand.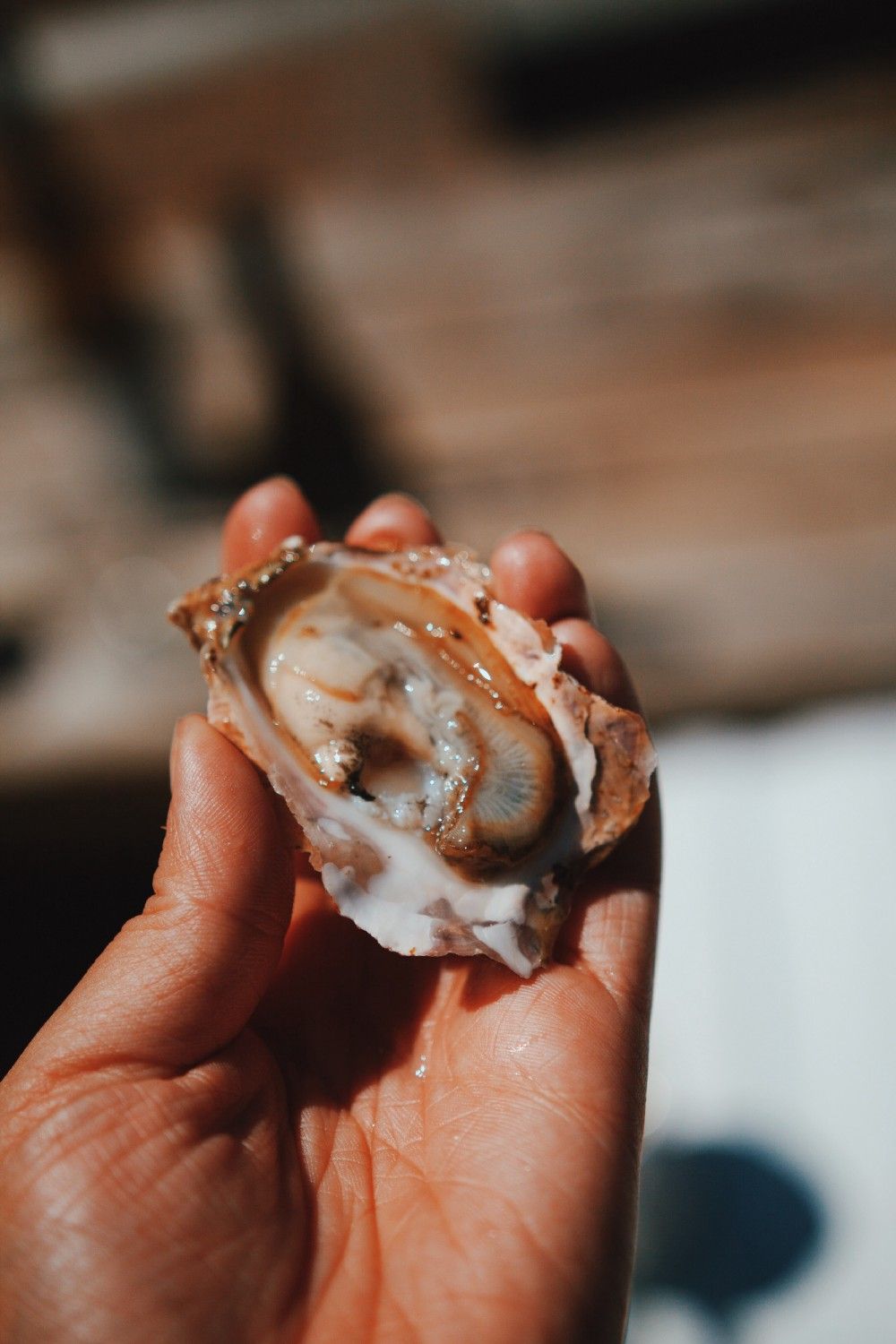 What does your day to day like?
Starting with farming labour, every month the oysters get tumbled, sorted, and sized. They will either get put back in the water to continue to grow or will be shipped out to the market. There are usually two days of tumbling a week, four days of sorting, and one day of loading the boat and bringing them into shore. Someone else will then transport the oysters to the plant for processing. After processing, they are shipped out to various markets.
I also spend a lot of time on business development. I've got to find, develop, and nurture demand markets. Last week we were in Seattle. Last spring, we were in NYC. We are starting to do more trade shows, as we expand and look for future markets. We also put a lot of work into getting grants to support the farm.
Then there is expanding the farm. I do most of that myself, building new rafts, breaking in new workers, finding new markets, and working with my spreadsheets to identify cost efficiencies. For example, at what point do we bump our 30-foot boat up to a 60-foot boat? The larger boat is 1/10th the speed and 1/10th the fuel cost, but 10x more labour. When do the numbers line up to justify expansion? There is constant juggling. Another example is our new work barge. I've fully engineered a work barge that's safe for our workers and that holds our new grading machine. This machine will place each oyster on a 3E scale to measure length, width, and depth, which will put out a very uniformed, high-end oyster. The machine will reduce production costs and give us a higher quality product, but it requires us to take out a half-million-dollar loan. 'Where does the breakdown of scale and cost work out?' is what I constantly ask myself.

How big is your team?
Anywhere from 3–10. We ramped up and got quite big two summers ago, but the larger number lead to more inefficiencies. With an oyster farm, you can only be small or big. You need the potential for growth and for inefficiencies to stay small. In a small operation, the owner-operator usually does everything. The way the industry is going, you can't afford to be small any longer. You can't get custom processing or always rely on people to transport.
You have a proven track record of success, but what do you have to still learn?
Learning how to lower oyster mortality rates.
What do you want Effingham Oysters to be doing 10 years from now?
We are close to putting in another product line, potentially another style of oyster, or looking into a different species like mussels or scallops. We've done our style of oyster very well, and it's time to put in another product line to further increase logistical efficiencies. We hope to be able to provide restaurants with a portfolio of products they can use.
What are you putting off right now?
I'd like to get a degree in physics.
---
To keep up with our coverage of harvesters like Mica, and to see how Freshline is building the future of food, subscribe to our newsletter.