While the way the world purchases, delivers, and consumes food is quickly changing, it's no secret the incumbent e-commerce ecosystem caters poorly to the intricate needs of perishables.
For example, existing e-commerce platforms struggle to elegantly handle hyperlocal commerce, perishables-specific platform rules, or advanced fulfillment in an all-in-one solution. Freshline is on a mission to change this.
During the month of February, we've been hard at work building out our partner's most requested features. And so this update is our biggest one yet.
Read on to learn more about the following updates:
Navigation redesign
Location-based product availability
Lists & Collections
Tracking code notifications
Improved zone switching on checkout
Product page improvements
Abandoned cart emails
Custom sheets generator
Demand forecasting on picklist
Bulk fulfill orders
Design improvements
---
Navigation redesign
To help create a more organized experience for your shoppers, we've redesigned the navigation bar, alongside the category and tag layout. Customers can quickly view all available options through a side navigation section on laptops, or a full-screen dropdown on mobile devices
---
Location-based product availability
Suppliers can now control the availability of their products on a service zone-specific basis.
The feature is great for:
Sensitive/delicate items that you may want to offer to customers in local delivery zones, but not in carrier-shipping zones (i.e. Uni, Wagyu Beef)
Items that may be available in one specific pickup location but not in another location (i.e. one of your retail stores may have produce items, while the other locations may not)
Ensure certain products are available for pickup only (i.e. bulky goods that may be difficult to deliver, expensive items)
If a customer adds one of these items from an allowable zone but switches, to another zone or address where the product is no longer available, they will be prompted to remove the items to check out.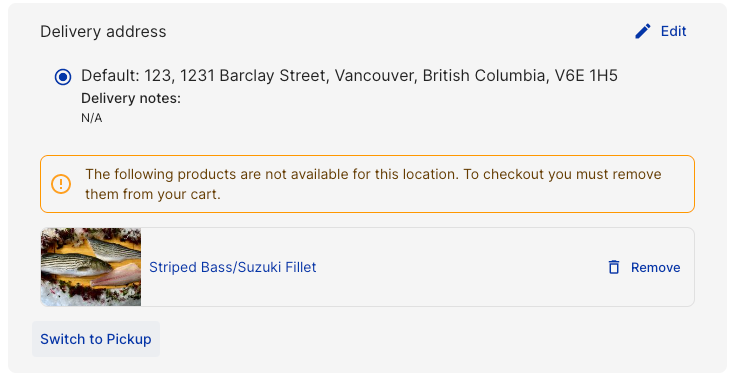 How to Use:
Log onto your Freshline Dashboard
Go to the specific Delivery, Shipping, or Pickup Zone via your Account -> Zones
Scroll down to the Unavailable Products section and choose the list you created
Customers will no longer be able to purchase products from that specific list for the zone(s) you've created an exemption for
---
Lists & Collections
Suppliers can now create custom Lists to group related items for display or functionality purposes. This list can be used to apply functionality such as:
Making a list of items taxable
Making the list hidden or not available in specific pickup, shipping, or delivery area
Or showcasing this list to customers via a custom URL (e.g. 'shop.supplier-name.com/lists/christas-wishlist')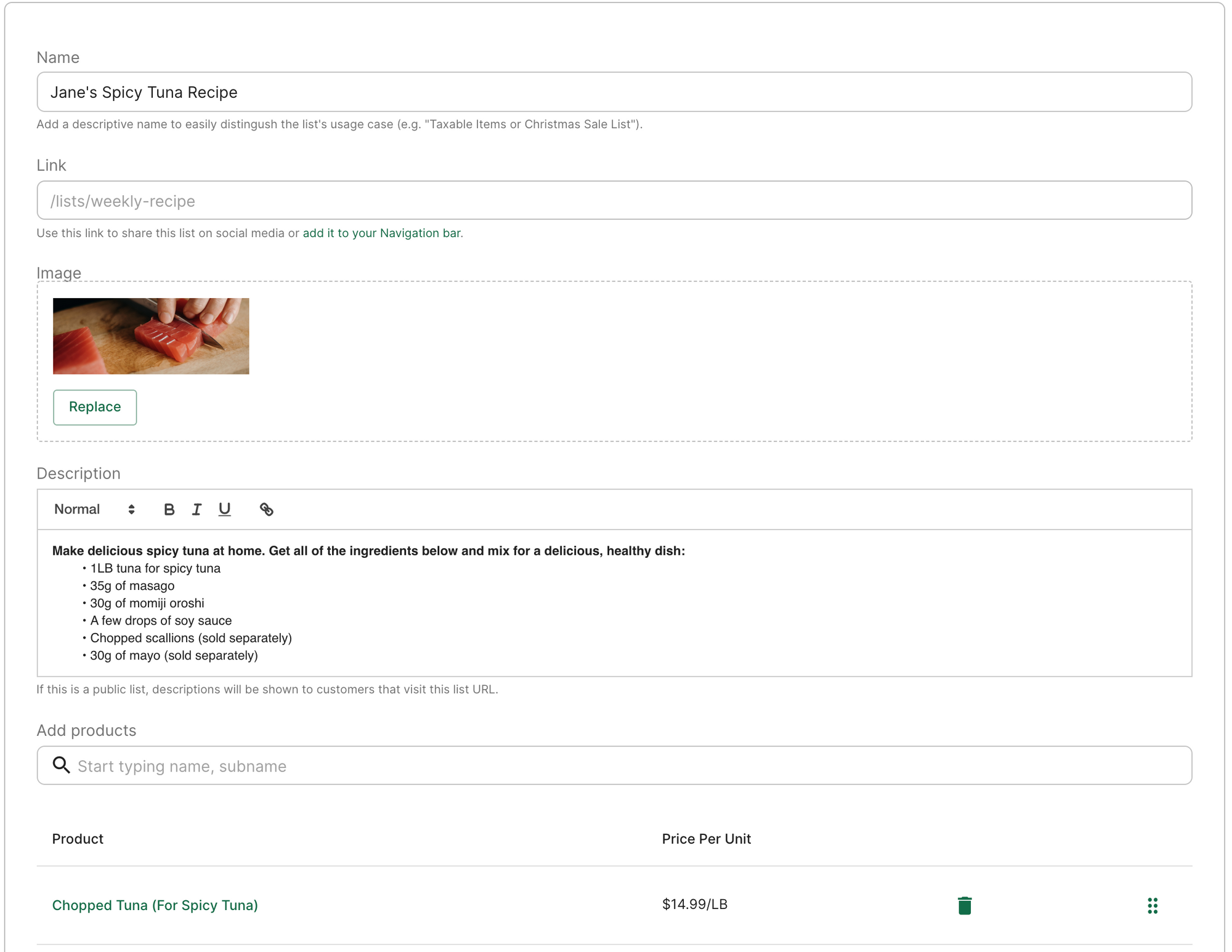 How to Use:
Log onto your Freshline Dashboard
Create a List by clicking Create List, and filling out the Name, Description, and choosing a collection of products
This list is now usable for taxation, regional unavailability, and public display for your shoppers.
*Please refer to the further down this update for adding a list to the taxable or unavailability list.
---
Tracking Code Notifications
Suppliers utilizing our carrier-enabled shipping can now add tracking codes directly onto the customer's order via the order details or order picklist pages.
Once a tracking code is added, customers will automatically receive an email notification with a dynamic link to their tracking code.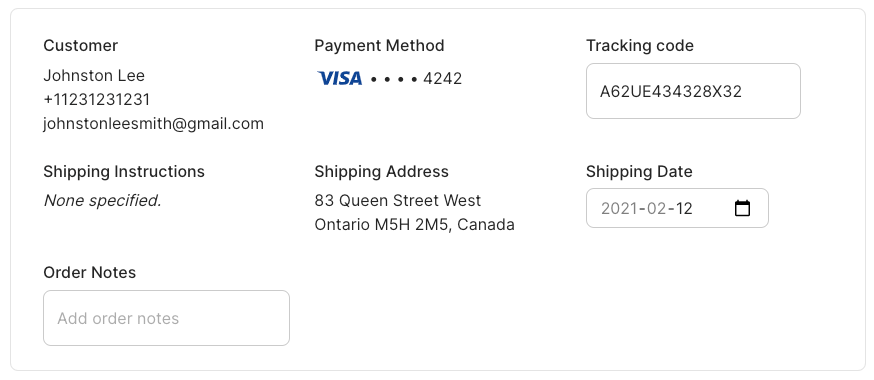 How to Use:
Log onto your Freshline Dashboard
Navigate to the specific order in question via the Order Picklist or Order Details
Enter in the tracking code value provided by FedEx, UPS, Purolator, or others & click update
The customer will be auto notified of the tracking code via email, with a link to track the progress of the shipment. The same link will be available in their Orders page on your shop.
---
Improved Zone Switches on Checkout
Your customers can now quickly and efficiently switch between all available zones (including pickup, delivery, or shipping areas) on the main shop page or checkout page.
If your zones have variations on available delivery days, order cutoff times, or product exemptions, customers will be provided an explanation of which products/dates are not available, alongside corrective actions to complete the purchase.
---
Product Page Improvements
We've completely overhauled the Product Create / Edit page to simplify and clean up the user experience. Contextual help such as helpful tooltips and explanations have been added throughout the page.
Furthermore, fields are now grouped by
Product info
Display and availability
Inventory and shipping, and
Fulfillment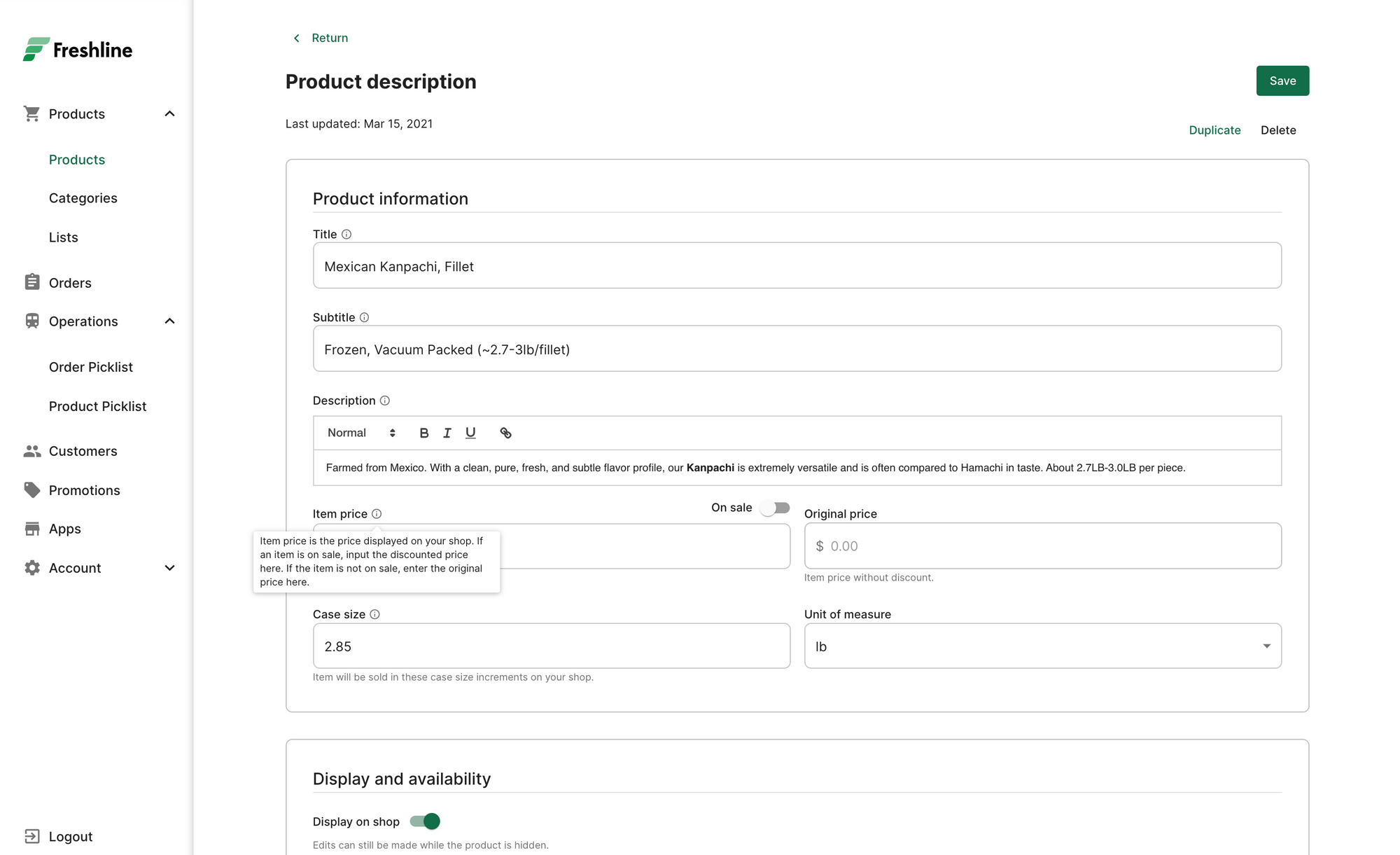 ---
Abandoned Cart Emails
Your customers will now automatically receive abandoned cart emails with a prompt to complete purchases for stale carts.
This one time email is automatically sent after 2 days of customers adding items to their cart but not completing a purchase.
Abandoned cart emails are automatically enabled for all users, free of charge.
---
Custom Sheets Generator
Suppliers can now customize the layout of their packing and picking list to the exact fields, organization, and sorting that would like. This export tool can also be used to create nuanced or customs reports for many use cases.
We're helping suppliers build the perfect picklist and reporting tool that aligns seamlessly with their existing workflow.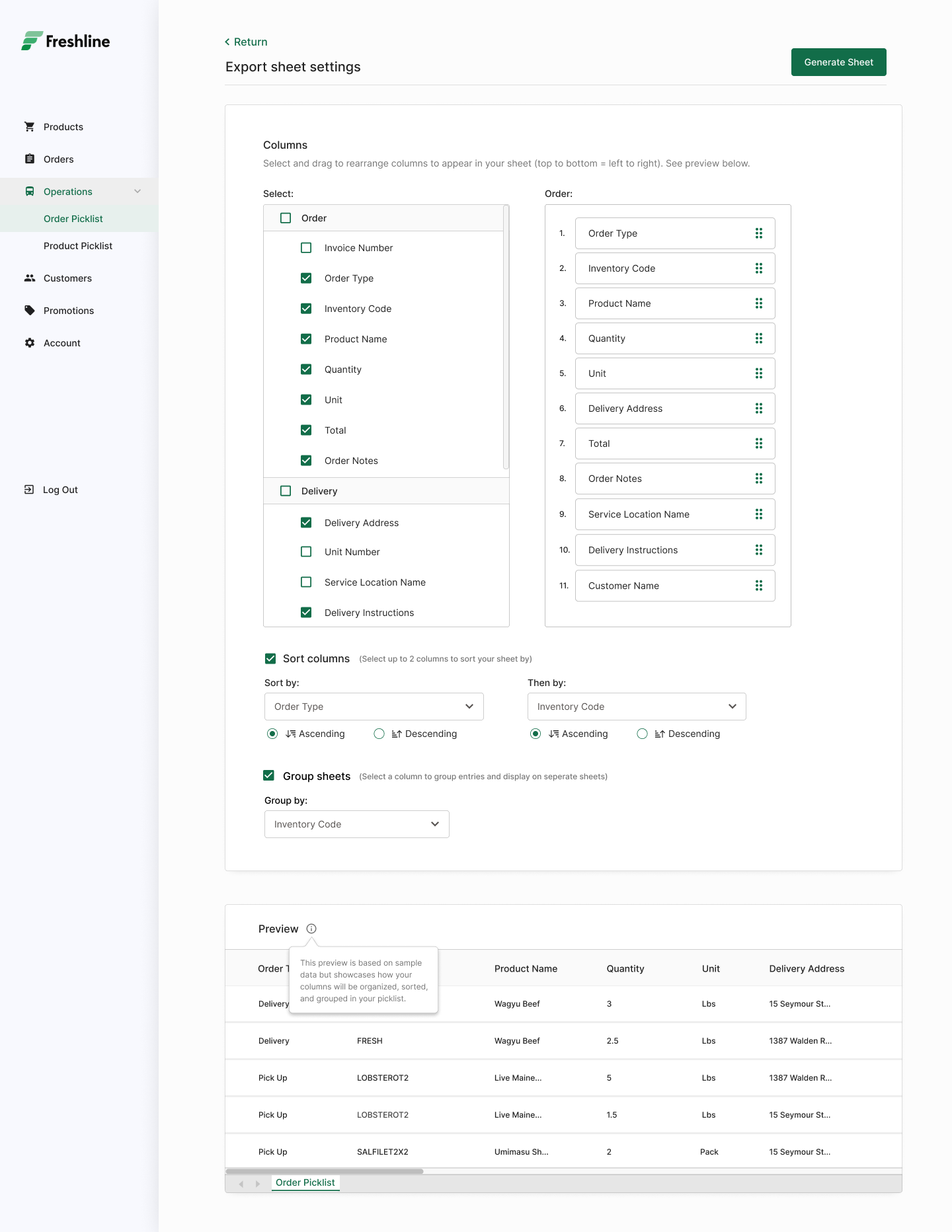 How to Use:
Log onto your Freshline Dashboard
Navigate to the Orders Picklist or Products Picklist
Choose the relevant date range, and click Export
Select the fields you would like to include in your export
Use the drag and drop sidebar to organize the order of your columns
Click the Sort columns dropdown to determine the default display rules for your spreadsheet
Use the preview to double check your export, and click Generate Sheet
---
Demand Forecasting
Suppliers can now choose a date range in their picklist to help determine upcoming demand via orders or products.
This consolidated view will enable suppliers to get an exact list of products (or orders) that need to be sourced, cut, and fulfilled within a given time range, or by a given service area. This is especially useful for forecasting inventory needs, checking demand for a given time period, or ensuring suppliers have enough stock on hand.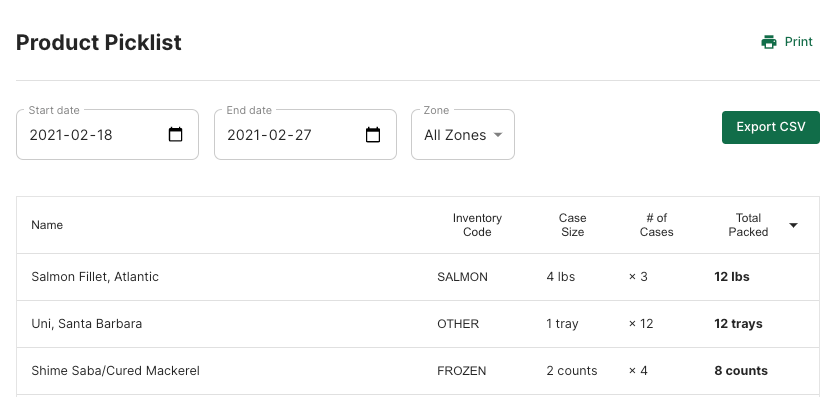 ---
Bulk Fulfill Orders
Suppliers can now fulfill all in-transit orders on their Orders Picklist by simply clicking Fulfill All, rather than clicking each order on the list. This will trigger an 'Order on the way' email to all customers.
Please note that this bulk action will only fulfill orders that haven't been fulfilled yet.

---
Design Improvements
Reordering categories on shop: Suppliers can now re-organize the layout of the categories on their dashboard. This order will affect the order of categories on the online shop.

Product Card Improvements: Shoppers can now add items directly to their favorites list for easy purchase. Hovering over a card now displays a preview of additional product photos.
Shop Carousel: Improved usability and design of the hero carousel on mobile devices
Announcement Bar: The Announcement Bar is now automatically styled with suppliers' custom theme colors
Manual Tips: Suppliers can now add custom tip amounts directly onto a manual order created on the dashboard
Contextual Help: Useful tooltips, examples, and contextual help has been added throughout the platform to highlight the use cases for each field/section on the dashboard
---
In the (beta) Pipeline...
1. Bulk Product Imports: Simply export a copy of your products from Shopify, Squarespace, Wix (among others) in CSV format to get your products automatically added onto Freshline.
2. Dashboard Analytics: Advanced platform metrics to enable suppliers to make better, more informed decisions. Users will have access to both common metrics as well as perishables-specific data.
3. Freshline Apps: We're opening up the Freshline platform to 3rd party apps, with a curated selection of initial apps going live soon!
4. Sales Taxes: Quickly add products to a taxable list, set regional rates, and collect directly from checkout. Need this now? A simple version is currently available for use via:
1. Creating a taxable List through the Products -> Lists
2. Adding this list under the Taxable products under Account -> Payment
---
Stay tuned on our blog for the latest scoop on new features and functionality to help you build, launch, and scale your online food business.
Interested in being a beta user? Want to make a feature request? Get in touch with me at joseph[at]freshline.io 👍🏼
Joseph Lee, Co-founder & CPO