Contents
Warm Winter Updates ❄️️ 🔥 🪵
For the past few months, our team has been focused on driving valuable features just in time for the just passed Black Friday/Cyber Monday rush. We've worked hard to ensure we're delivering value for all food distributors working with us.
Read on below to check out the latest updates! ↓
Missed our last few updates? Check them out here 👈🏻
---
Availability Overrides
Most food distributors know how there can be many different times of year that have unique schedules, particularly around the holidays. Furthermore, with recent news about supply chain delays, it is more important than ever to have an ability to customize what days folks are able to order products for. This is why we've created this latest feature called availability overrides.
With Freshline, suppliers can choose many days in advance both days to block out (no availability) or days to enable (providing availability) on a product by product basis. This further advances Freshline's already robust fulfillment system.

First you need to navigate to your Store tab and from here select Availability Overrides.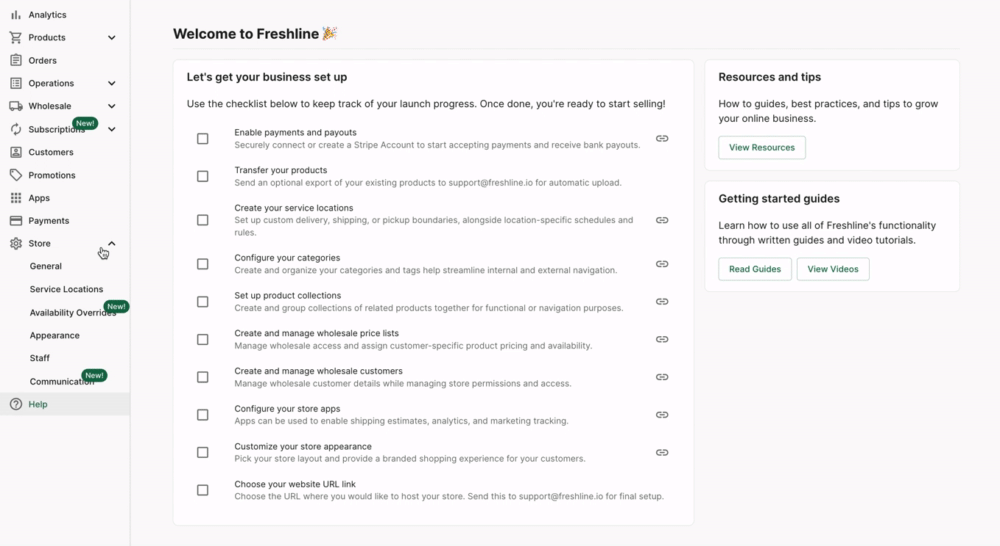 From here you can add a collection from your collections page to an availability override list and select which days you would like to display as available or blocked.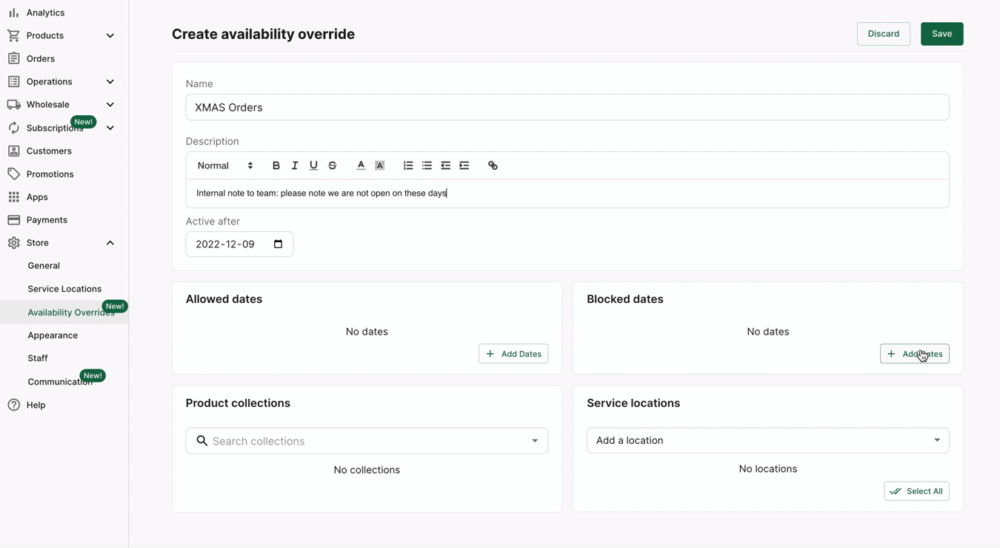 Suppliers can inquire about availability overrides by contacting Freshline support.
---
Archiving Wholesale Businesses
Food Distributors can now archive wholesale businesses that no longer order from them, this allows for the wholesale customers to access their order history but not place new orders in the case of outstanding accounts receivable or bad debt.
Any wholesale business that is added to the 'archived' category can also be 'unarchived' at any time. Here's how it works:
On the Wholesale tab, navigate to the Businesses page.
Search for a wholesale client and click into their page;
Find the Archive button and select it. The wholesale client will be automatically archived as described above.
You can unarchive the customer at anytime by navigating back to the Businesses page and selecting 'Unarchive'.
---
Subscriptions
Suppliers can now enable subscriptions for their customers. This is great for customers that need recurring orders fulfilled on a regular basis or for restaurants that have standing orders.
On the Subscriptions tab, first navigate to Collections, and then click 'Create Subscription Collection'.
After this you can enter in the details you would like for your subscription, such as day(s) of fulfillment, products you'd like in the collection and how frequently you'd like the subscription to repeat, click 'Save'
From here customers will be able to add recurring subscriptions of products to your store.
Suppliers can inquire about accessing subscriptions by contacting Freshline support.
---
ERP Integrations

Suppliers can integrate directly into their ERP through a series of significant advancements made by the Freshline team over the last several months.
Freshline is able to connect directly to ERPs now using our in-house integration management tool. We can send information to select ERPs depending on your needs. With more ERP connections being made monthly!
Suppliers can choose what information gets sent to their ERP such was order information, inventory levels, general product availability or unique customer pricing that gets updated.
Suppliers can inquire about a custom ERP integration by contacting Freshline support.
---
Percentage-Based Fee
Food distributors can now automatically add processing fees to their customers' orders. This includes the ability to:
Passing on ACH fees or fuel surcharges to their customers;
Passing on credit card fees;
Passing on fuel surcharges;
This functionality is accessible through the payments page on your dashboard.
---
As always, any feedback, feature requests, or comments are really appreciated. We love hearing from you!
Robert Kirstiuk
Co-founder @ Freshline