I hope everyone is having a fantastic start to 2021. The entire Freshline team is refreshed and excited to continue our mission of brining efficiency and delight to those who supply the world's food.
We're excited to announce the release of several highly requested features - rolling out to our customers across North America. Here are some highlights:
---
Dynamic Hero Carousel 🎠
Suppliers can now better showcase their brand, product lines, and story by adding a beautiful, full-width banner to their online store. Simply choose a photo, text, button link, and choose between two designs: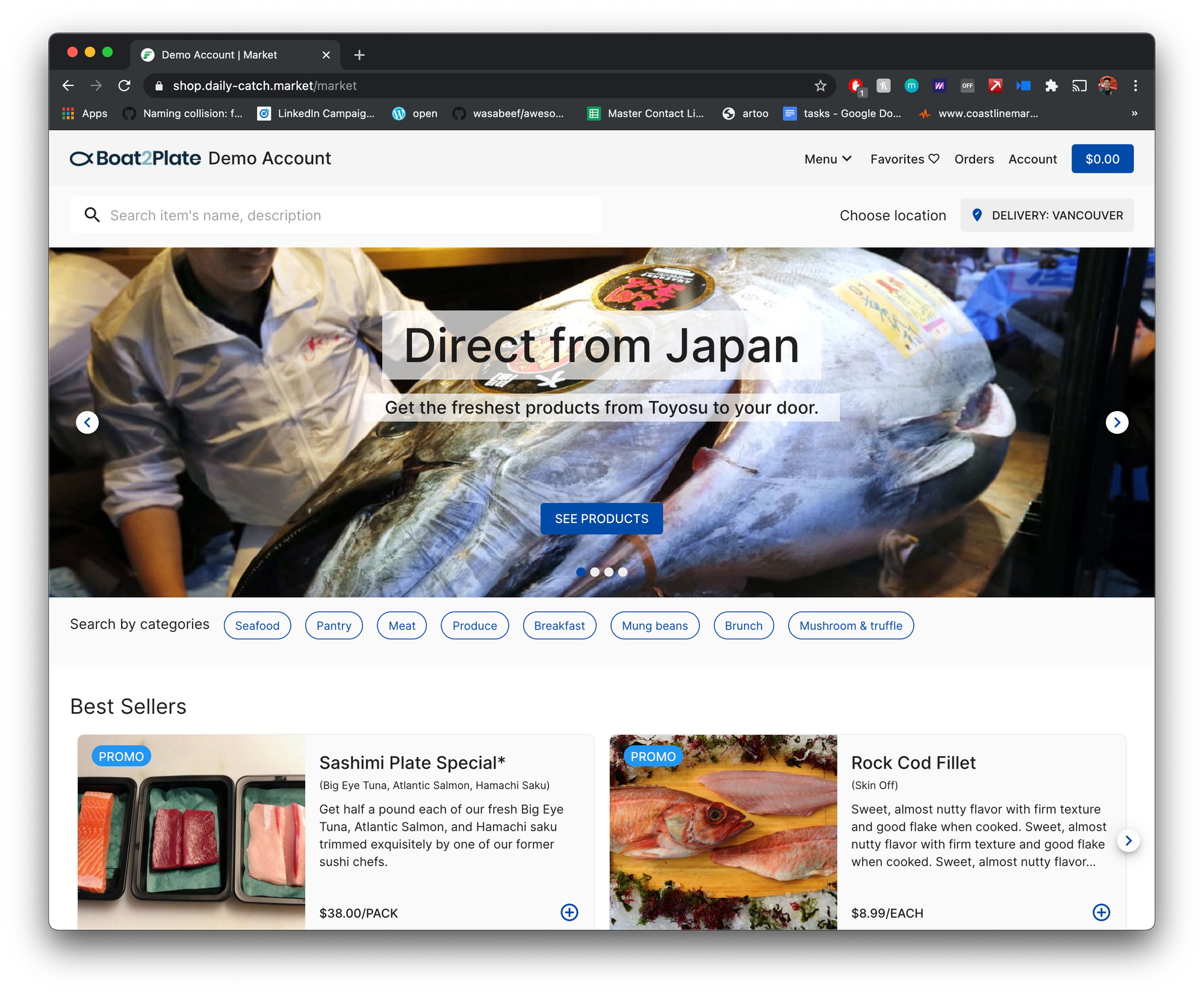 Full Width: Perfect for punchy, high-resolution images to showcase your bold products and company. Your text and buttons show up as an overlay above the photo.
Half Width: Great for showcasing your images and text area in isolation. Your text and buttons show up on separate sections for ease of reading.
The Dynamic Hero Carousel looks great on laptops, tablets, and mobile phones.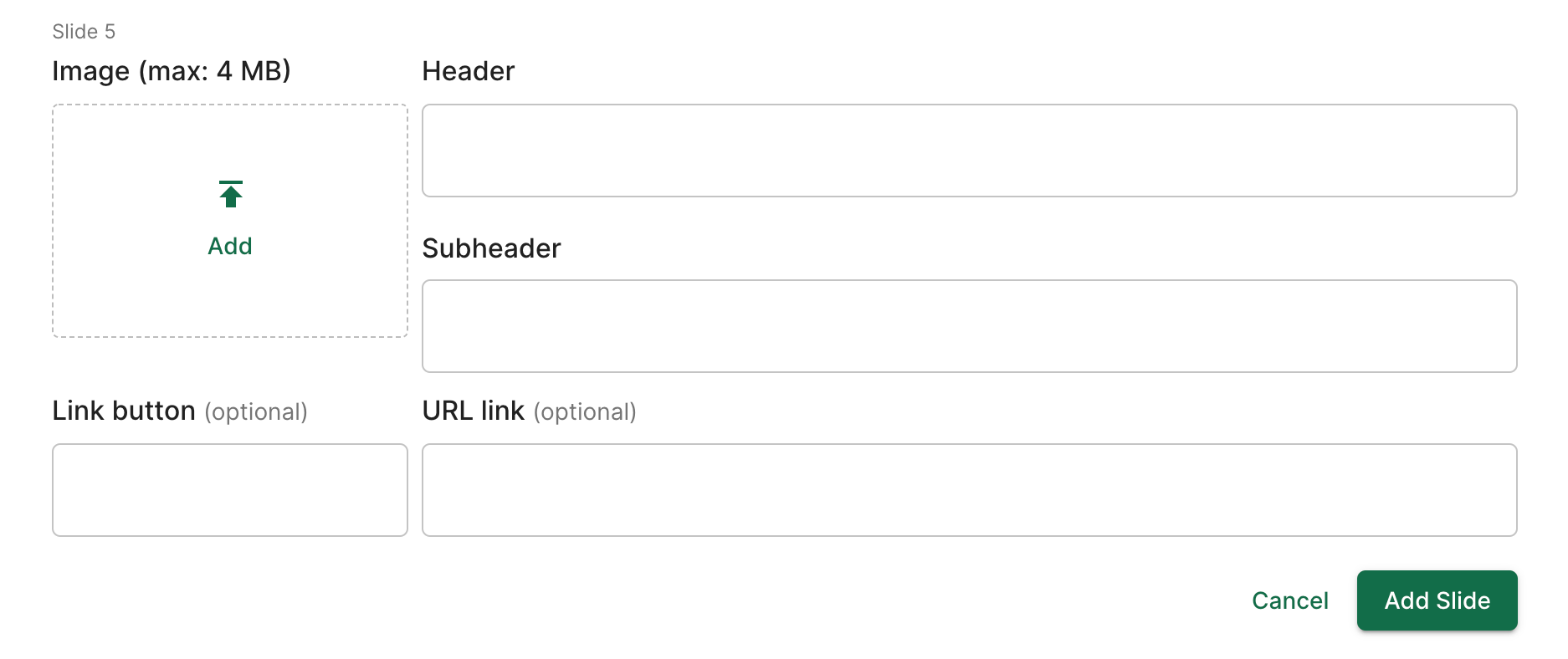 How to Use:
Log onto your Freshline Dashboard
Navigate to the Design Settings page by clicking Account -> Design
Scroll to the Carousel section and choose between the (1) Full Width or (2) Half Width design
Add a value for the Header Text, Sub Header Text, and Image. Add in an optional button and URL as desired. Click Add Slide.
5.  After adding your content, edit, delete, or customize the order of the carousels.
6.  To finish, click Save at the top of your navigation bar! 🎉
---
Manual Orders ✏️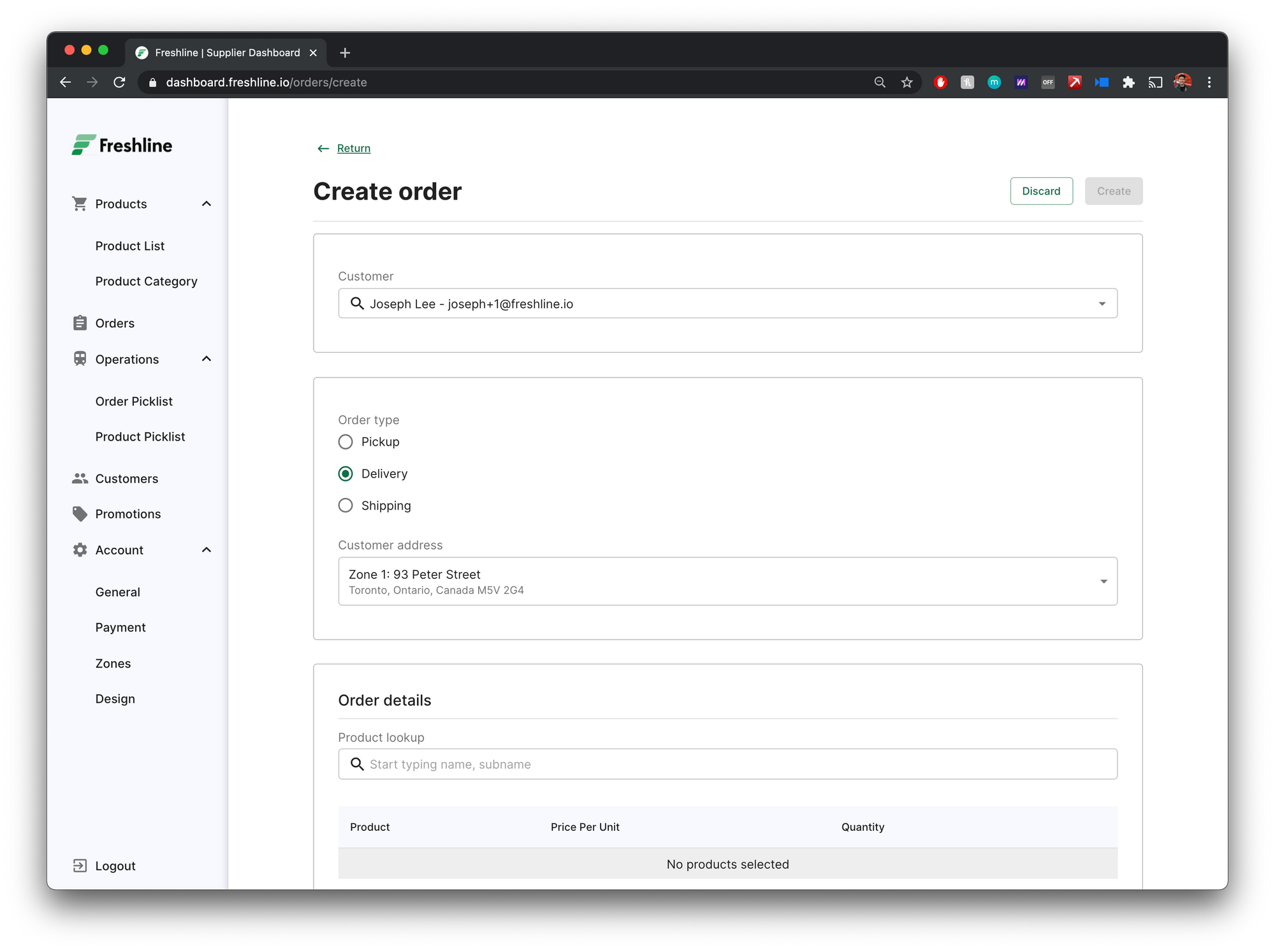 Suppliers can now create orders for their customers directly through their Freshline Dashboard.
The Manual Order feature is great for:
Orders you receive over the phone, email, text
Entering in orders from any wholesale customers with custom pricing
Bypassing any minimums, delivery dates, or delivery fees that are imposed in your Delivery/Pickup Zone Geofences
Rectifying any mistakes or replacing an existing order
Need to enter in a custom price or quantity? No problem. Products are pre-filled with the base price, but can be adjusted to any value you desire.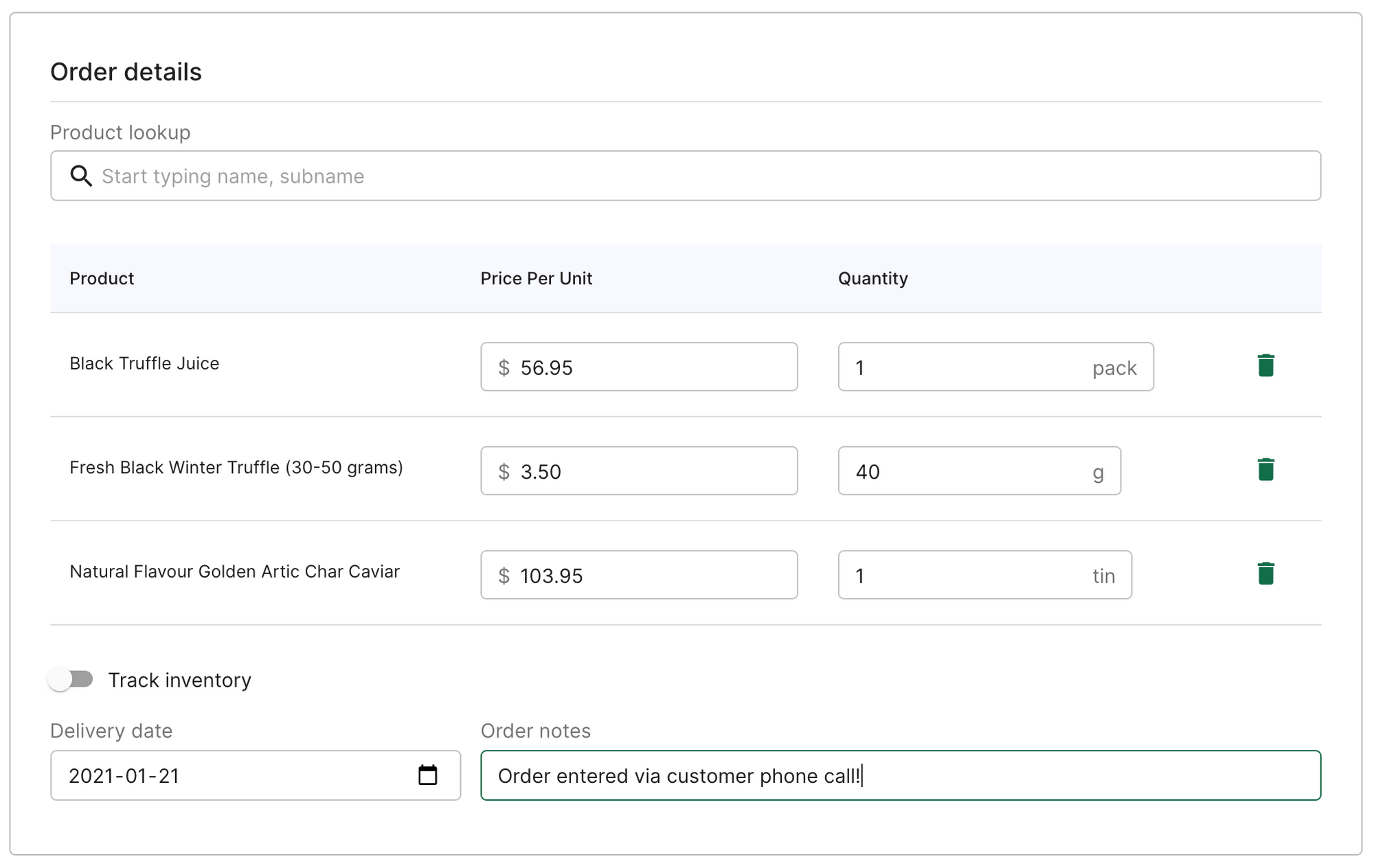 Orders created through the Manual Orders page will seamlessly appear on your Picking and Packing list, so you can continue to reconcile any variable product weights while benefitting from streamlined operations.
How to Use:
Log onto your Freshline Dashboard
Navigate to Orders and click Create New Order
Choose a customer by typing in the Customer Input
Choose the product(s) you would like to add to the order. Change the Price Per Unit and Quantity to your desired values
Choose a delivery date, add order notes, and submit 🎉
---
Order Note Editing 📝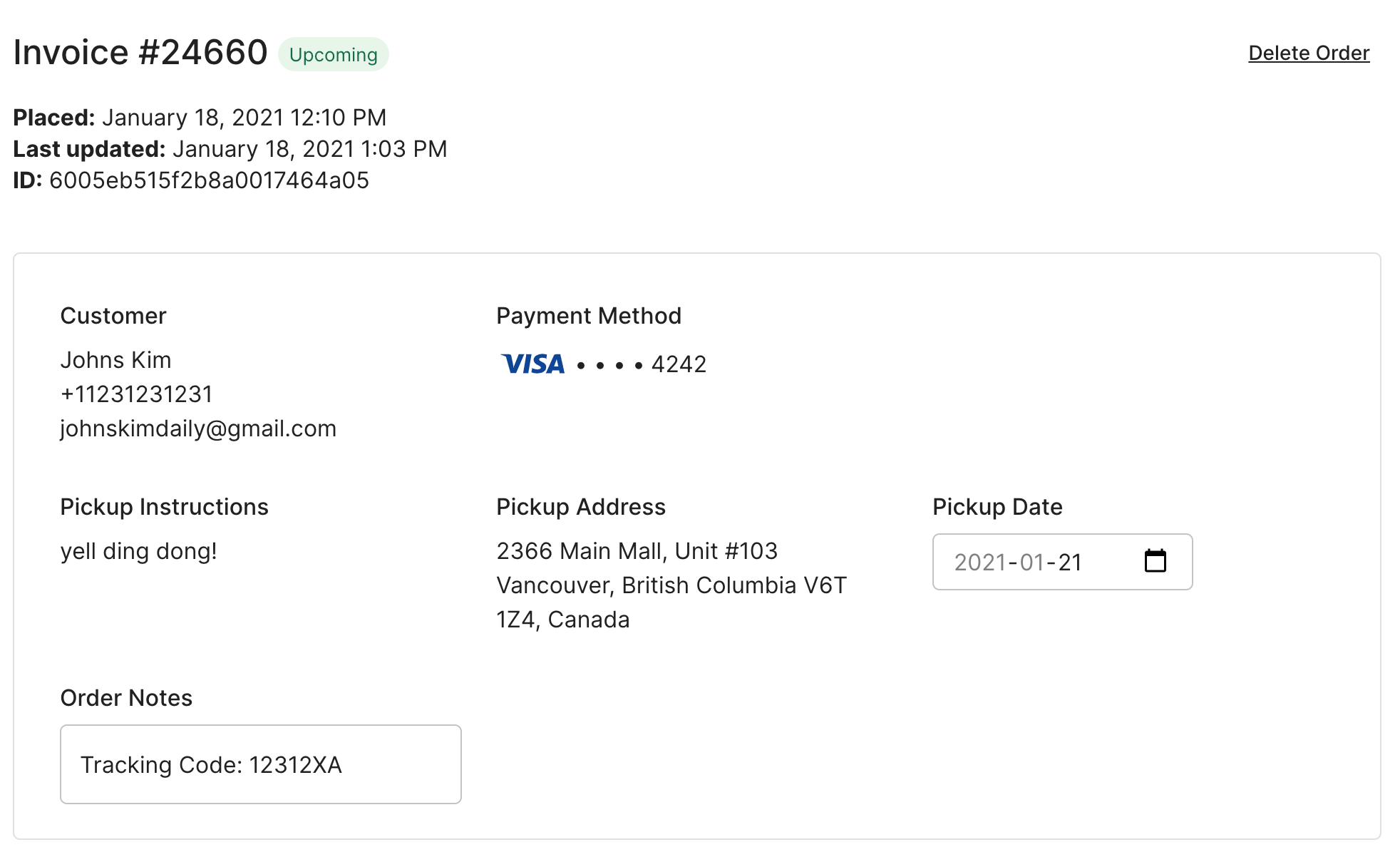 Suppliers can now edit customer order notes directly through the order details page. This is perfect for:
Relay the reason(s) behind an order update, product removal, or quantity change
Putting in an internal operations or delivery note for your staff (this will show up on your pack & picklist)
Writing a thank you note to a customer
How to Use:
Log onto your Freshline Dashboard
Navigate to Orders and click the desired order
Enter a new order note or modify an existing order note
Click Update Order to send an email notification to the customer on the order changes, alongside the order note 🎉
---
Minor Updates 🎣
Suppliers can now sync their Freshline accounts directly with specific email lists on Mailchimp
Clean up formatting of addresses so Unit Number displays at the end of the street address
Checkout page design and performance improvements
Re-enabled supplier notifications for individual customer orders and out-of-stock inventory items
---
In the Pipeline... ⏳
Bulk Product Imports: We're making it easier than every for suppliers to get a taste of Freshline. Simply export a copy of your products from Shopify, Squarespace, Wix (among others) in CSV format to get your products automatically added onto Freshline.
Navigation and Category Redesign: Redesign of the Shop Navigation Bar, Location Blocker, and the Category/Product Tags layout to improve customer experience, conversions, and usability.
Custom Sheets Generator: Customize the layout of your pack & picklist export, including the (1) fields included, (2) ordering of columns/rows, (3) sorting by any value, (4) grouping of unique data on different sheets/tabs. This feature will enable suppliers to build the perfect picklist or reporting tool that aligns seamlessly with the existing workflow.
Toggle Product Availability Across Geofence(s): In addition to customizing the delivery date schedule for different service locations, suppliers will now be able to make products available exclusively in a specific zone. This is perfect for (1) making a group of products available as pick-up/deliveryor shipping only, and (2) making a group of products available in one pick-up location, but not another location
Dashboard Analytics: Advanced platform metrics to enable suppliers to make better, more informed decisions. Users will have access to both common metrics as well as perishables-specific data.
Interested in being a beta user? Want to make a feature request? Get in touch with me at joseph[at]freshline.io 👍🏼
---
Stay tuned on our blog for the latest scoop on new features and functionality to help you build, launch, and scale your online food business.
Thanks for reading,
Joseph Lee, Co-founder & CPO