Contents
Fresh Mid Summer Updates ☀️
For the past few months, our focus has been on adding additional tooling and time-saving fulfillment features for our supplier partners. We're confident these set of features will continue to help our partners save time and effort in their day to day operations.
Read on below to check out the latest updates! ↓
Missed our last few updates? Check them out here 👈🏻
---
Proof of Delivery Signatures
Most food distributors know how painful it can be collect on invoices without a signature. Worse still, signed paper copies often get lost or are damaged, and there isn't a centralized/shared record.
With Freshline, suppliers can efficiently get their customers to sign off during the delivery process to guarantee payment and collection. Here's how it works:
The driver can load up the relevant orders by visiting the Order Picklist
Upon delivery of an order, the driver can click "Signature" next to the relevant order on the picklist;
Through the popup modal, the chef/buyer/receiver can sign for the order, which will create a digital signature with a time stamp;
This signature and timestamp will be added to the Order / Proof of Delivery Receipt, which can be accessed by both the supplier and buyer;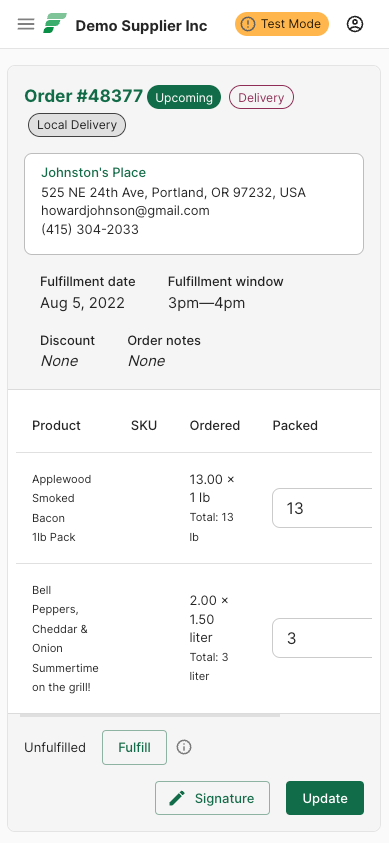 ---
Create Wholesale Order on Dashboard
Suppliers can now create wholesale orders manually via the Supplier Dashboard. This feature is useful for entering in orders collected manually (i.e. via text, email, fax), recurring/standing orders, or for any ad-hoc requests.
Any order created through the manual order page will show up on the picklist and packing sheets. Here's how it works:
On the Orders page, suppliers can click Create Order. You may see two options (i.e. Create Wholesale Order and Create Retail Order), depending on your setup;
Search for a wholesale client;
Search for the products you would like to add to the order. The item prices will automatically be synced with that specific customer's pricing tier;
Create the order!
---
Automated Invoicing and Collections
Suppliers can now utilize Invoicing and Collections (powered by Stripe) to simplify and automate their accounting and collection processes. This functionality allows suppliers to:
Create invoices on Stripe for fulfilled orders on Freshline, with integrated net terms, collection emails, and accounting integrations;
Automatically collect check, credit card, and ACH payments (direct debit) on net terms, for customers with valid payment methods;
Integrate or export this data to any application listed under the Stripe App Store (i.e. Xero accounting)
Suppliers can opt-in to Managed Invoicing by contacting Freshline support.
---
Assign a Rep to a Wholesale Client
Suppliers can now assign a sales rep to a wholesale client account. Assigning a representative to a wholesale client unlocks a few things:
The rep's name will show up next to their wholesale customer on the Businesses table, allowing suppliers to quickly sort their customers by reps;
Suppliers can filter and analyze sales revenue by rep - allowing them to proactively support or empower their staff;
Ensure that reps are CC'd on any email order confirmations or changes that are relevant to their specific account;
Suppliers can access this feature by navigating to the Businesses tab under the Wholesale page.
---
Create and Set Staff Accounts
Suppliers can now easily create staff accounts to provide them with access to their Freshline Dashboard. This includes the ability to:
Create brand new staff accounts;
Setting permission types for new and existing accounts;
Removing staff access from the dashboard;
This functionality is accessible through the Staff page under Store.

---
Analytics Improvements
Suppliers can now set custom date ranges and filter sales revenue by rep on the Analytics page. Short and sweet!
---
As always, any feedback, feature requests, or comments are really appreciated. We love hearing from you!
Joseph Lee
Co-founder @ Freshline