Contents
Kicking off summer with a big round of updates 🙌🏼
Summer has been good for the Freshline team - we've had our hands full launching new customers and building new features. We're excited to share these latest round of updates - which include some of the most requested features and updates to date. Some of them are a long time coming! Read on below to check out the latest updates! ↓
Missed our last few updates? Check them out here 👈🏻
---
Retail Checkout 2.0
We're excited to roll out retail checkout 2.0, which has been redesigned from the ground-up with new functionality, speed optimizations, and security improvements.
Here are some highlights:
New Calendar Date Picker
With the new calendar date picker, suppliers can now allow their customers to order beyond the existing 7 day pre-authorization window. This new calendar view provides customers with an easy-to-use interface that denotes dates by:
Green: All items in the cart are available on that date
Yellow: Some of the items in the cart are unavailable on that date
Red: All of the items are unavailable on that date
Suppliers can customize how far into the future customers can order (i.e. 2 days from today, 7 days from today) by editing the Order Days in Advance feature - which is highlighted in this post.
Separated Gift Card and Discount Code Sections
Previously, customers were limited to one promotion per order (either a discount code or gift card). Moving forward, both discount codes and gift cards can be used together on one order.
Speed Improvements
Finally, the checkout page has undergone significant speed improvements - helping customers place orders more seamlessly than ever before.
---
Order Days in Advance: Pre-Orders Beyond 7 Days
This update is sure to excite 🙏🏽  
Suppliers are longer restricted to offering delivery dates that are within 7 days of the pre-authorization expiry. No more emailing customers, having unavailable dates in cart, bulk editing product fulfillment dates, or pre-order workarounds!
With the new Order Days in Advance feature, suppliers can customize how far into the future a customer can order on their retail store.
For example:
If a supplier sets this value to 7, customers will be able to choose any applicable fulfillment date within 7 days from today;
If a supplier sets this value to 2, customers will be able to choose any applicable fulfillment date within 2 days from today;
If a supplier sets this value to 30, customers will be able to choose any applicable fulfillment date within 30 days from today;
For all cases, lead times (i.e. Tuesday for Friday), available fulfillment dates (i.e. only M/W/F), and product availability will continue to be part of the calculation on which dates are available and unavailable.
Suppliers can adjust this value by going to Store -> Service locations.
---
New Service Locations Map Page
We've revamped our supplier's service locations pages to display all delivery, shipping, and pickup locations on one page.
Through the redesigned service location page, end customers can:
See all locations or filter for a specific service location;
Expand a specific service location map and interact with it;
And see all pertinent information for that location, including any minimums, fees, schedules, and cutoffs.
Show or Hide Inventory for Customers (B2B & B2C)
Suppliers can now choose to explicitly display or hide the total inventory remaining on a per-product level.
For example:
Suppliers can choose to continue tracking inventory for Item A and not show the remaining inventory on hand, while
Tracking inventory for Item B, and displaying the remaining inventory on hand
This is helpful for suppliers with different use cases and products types - where it may be more advantageous to show stock remaining for one item, but not for another.
This setting affects both wholesale and retail ordering portals, and can be adjusted per product by navigating to the Products page.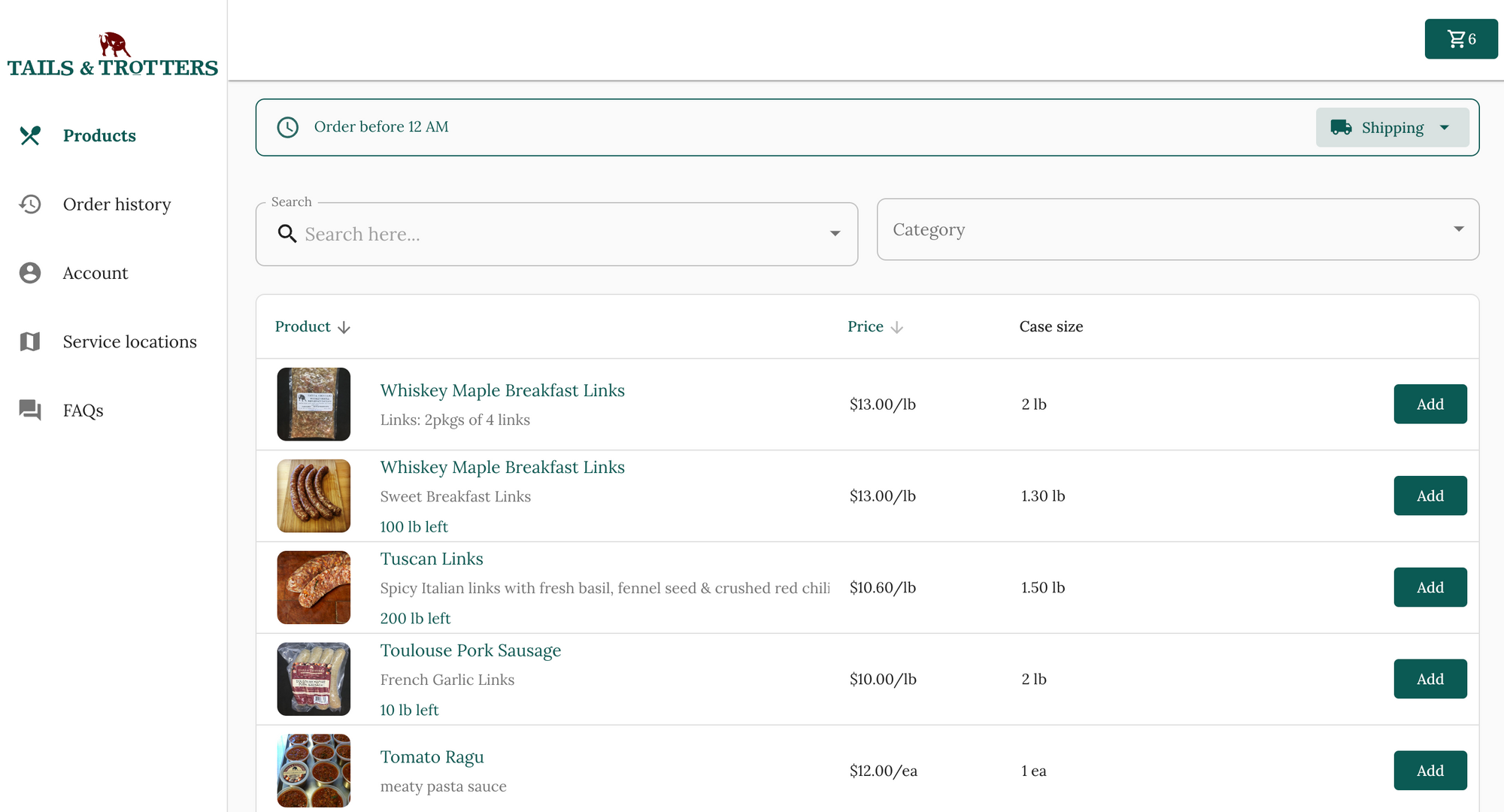 ---
Add Items to Orders (Suppliers)
This has been one of our most requested features. So we're ecstatic to be able to deliver this improvement to our partners!
Through the management dashboard, suppliers now have the ability to add products to an existing (unpaid) order - without having to cancel and recreate a new order.
Simply use the built-in search bar to search for an item, adjust the pricing and quantity, and save the order once complete.
Please note that for instances where the new order total surpasses the previous pre-authorization, the authorization will be cancelled. Suppliers will need to manually click Charge Now at the bottom of the order page after finalizing the order.
---
Modify Orders (Wholesale and Retail)
End buyers on wholesale and retail e-commerce platforms can now easily make changes to their order by using the new "Modify Order" button. This button can be accessed by navigating to the order details page. If the order is unpaid and cancellable, this option will be actionable.
Once the user clicks this button and confirms the warning prompt, their existing order will be cancelled, and the existing products in their order will be re-added to the cart. From here, the customer will be able to make add/remove items, change the order details, or adjust the fulfillment date.
After the changes are finalized, they can simply check out as usual to place the new order!
---
Wholesale Net Terms
We've added the ability for suppliers using wholesale functionality to quickly set:
Default Net Terms: applied by default to every wholesale customer registration
Customer-specific Net Terms: set through the individual customer page
This Net Term functionality will enable suppliers to automatically track payment due dates - which is calculated through the Net Terms and the Order Fulfillment Date. This feature can be found under Payments or within a specific Business Page.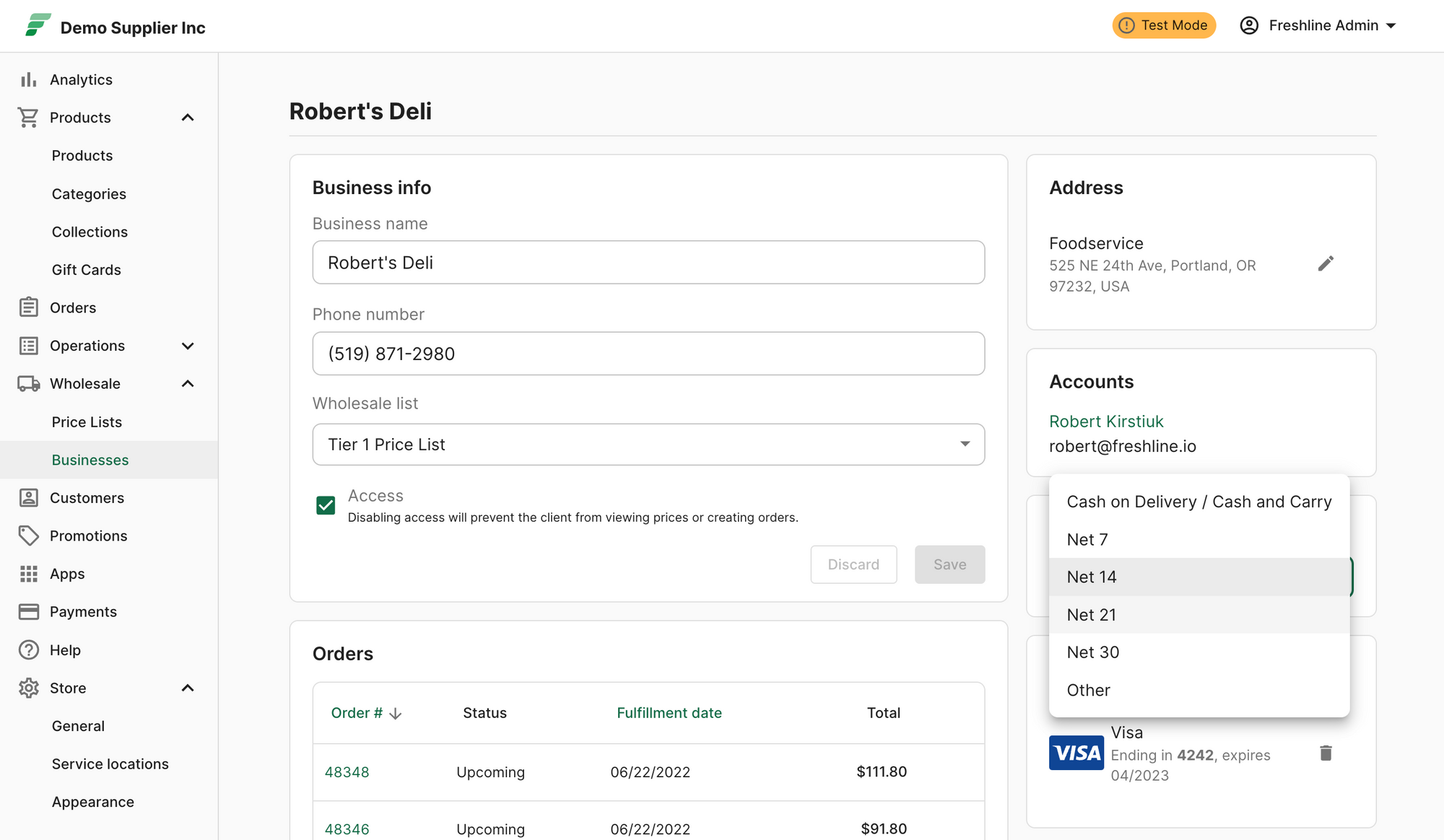 Bugfixes and Minor Improvements
Several table sorting issues have been resolved - specifically the price list and businesses pages
Suppliers can now set all order statues as "Completed" by using the "Fulfill and Mark as Completed" option on the Product Picklist
Purchaser emails have been added to the Gift Card page
Suppliers can now enable/disable Gift Cards through the Gift Card Page
The performance of the Order Picklist page has been improved for cases where the number of orders exceeds 100
---
As always, any feedback, feature requests, or comments are really appreciated. We love hearing from you!
Joseph Lee
Co-founder @ Freshline