Another month, another product update 🐟🐷🥦
Over the past month, we listened to our power users and shipped out a few exciting updates - live on your Freshline Dashboard. Here are just a few highlights you should check out:
Contents
Missed our last update? Check it out here.
---
Product Variants
After getting a ton of requests for this feature, we're excited to push product variants to all suppliers on Freshline!
Suppliers can now add unlimited variants or options to their products. This is perfect for products with multiple:
Flavors (i.e. Lime, Citrus, Yuzu)
Cut Variations (i.e. Skin-on Fillet, Skin-off Fillet, Whole Fish, Gilled)
Product state or packaging (i.e. Frozen, Fresh, Vacuum-packed, Gift-wrapped)
With variants, suppliers can also set variant specific prices and attributes, including:
Case Size (i.e. sell one variant in increments of 10, another in increments of 1)
Units (i.e. sell one variant in 'lb' and another one in 'cases')
Inventory (i.e. set one variant as out-of-stock; add different inventory levels per option)
Unit Price and Cost (i.e. sell one cut as $12/lb and another as $13.25/lb)
With variants, suppliers can now declutter their stores, sell more unique item variants, and unlock more choice for their end customers. Try it out by heading to the Products page on the Freshline Dashboard.
---
Dashboard Design Updates
With this new release comes a bevy of design improvements - some large, and others nuanced. Overall, these updates should help you navigate more seamlessly, provide more clarity, and help you focus your efforts on what you do best - supplying great product.
Recent design updates include:
1/ Two-Pane Dashboard Interface
We wanted to help suppliers better view and modify their products - without having to endlessly scroll. Our new two-pane view allows suppliers to see more glanceable information, see how different inputs relate to one another, and make changes with less clicks and scrolling.
Find the new two-pane layout on your products, customers, and promotions page to start.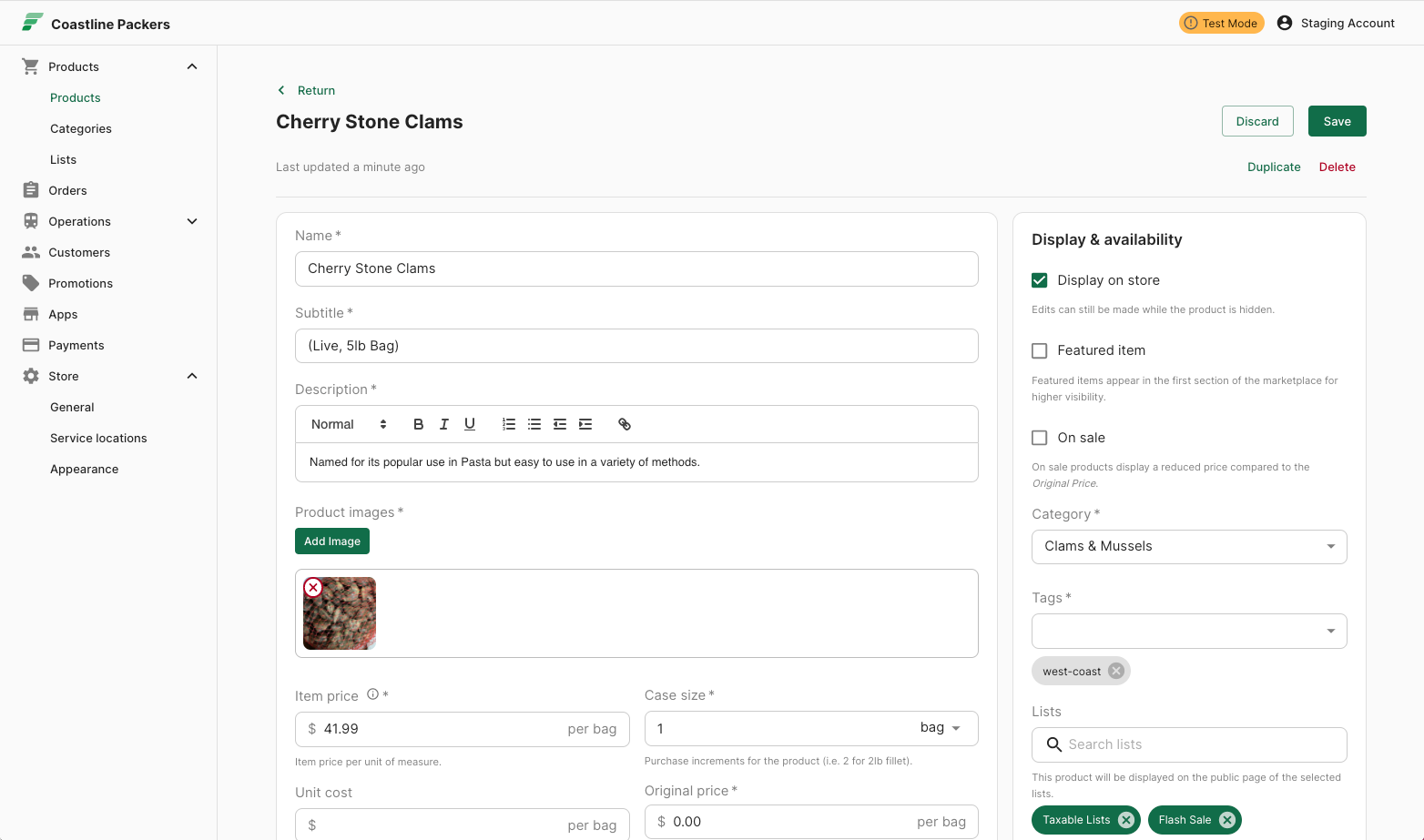 2/ Better Inputs and Forms
We've overhauled our forms and inputs to contain more contextual information - in an effort to reduce confusion and create more clarity. For example, we integrated units dropdown  (i.e. lb, kg, case, box) directly into the case size input; making it clear that this is the purchasing increment for this product on the store.
Similarly, this unit will be reflected across the item price and cost (among others), making it ultra clear what suppliers' are pricing their products by (i.e. per pound, per piece, per case).
3/ Add Category Sorting on Product Picklists
Freshline's product picklist functionality is an integral way for warehouses or back-of-house staff to efficiently pack the items needed to fulfill orders for the day. Now, suppliers can further sort/group their picklist by product category - allowing them to efficiently cut, pick, and pack items by related categories.
For example, suppliers can now sort items by category to get a refined picklist that displays all of the fillet items first, smoked items next, etc - making it easy to dispatch pickers to each storage area or departments.
Find this new picklist improvement on the Operations page in your Freshline Dashboard.
---
Customer Order History
In addition to viewing historical orders through the Orders page, suppliers can now click a specific user (under Customers) to see a full history of their orders.
From this page, suppliers can click directly into an order to view additional details, modify orders, or even create a manual order with that user's pre-filled information.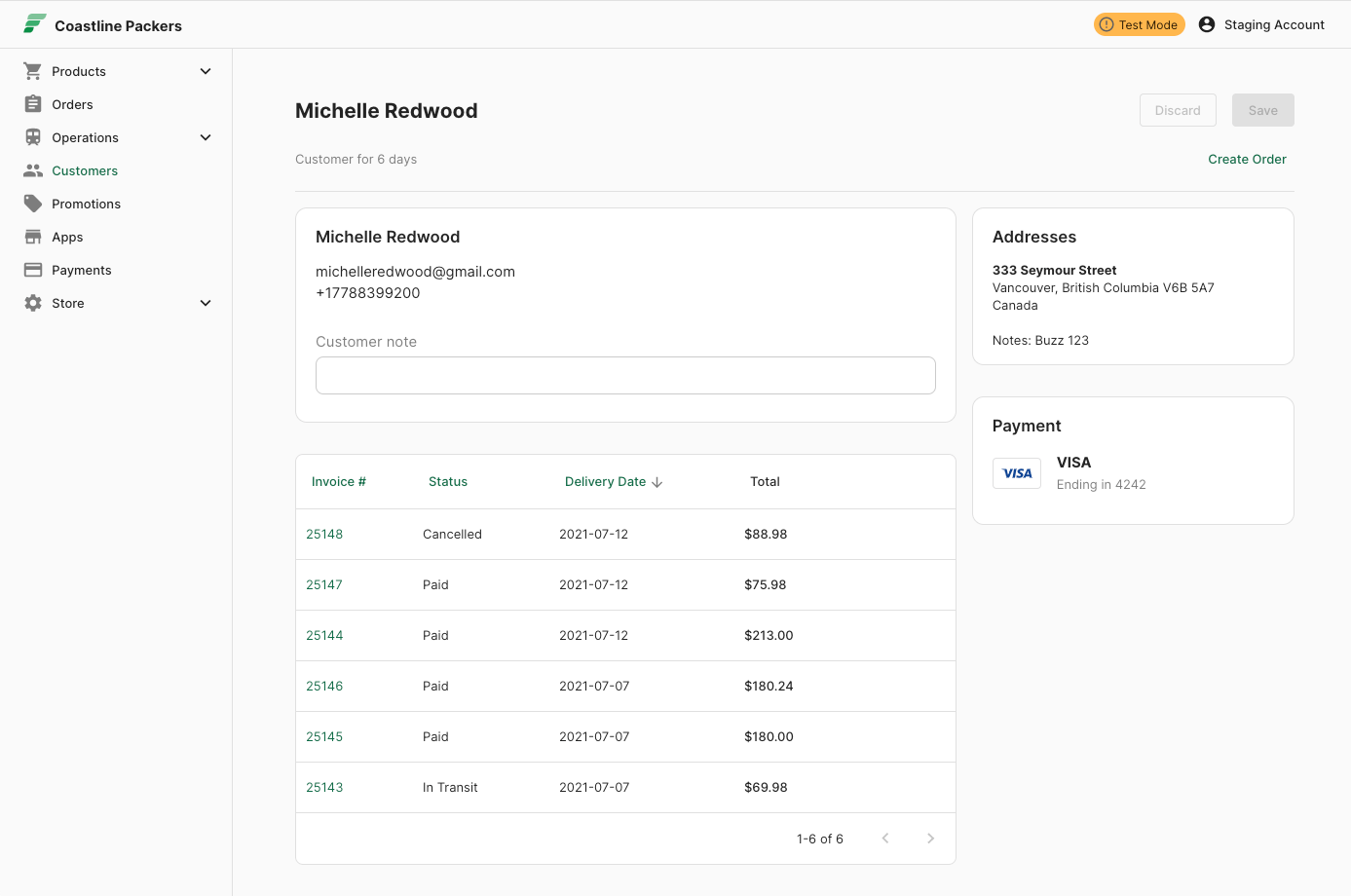 Leverage this feature to keep a better pulse on the health of your customers, reward the most active users, and save time during the order review/update/creation process. Check it out by heading to the Customers page on the Freshline Dashboard.
---
Quick Edit Improvements
Suppliers can now access bulk adjust even more product (and variant) attributes using the Quick Edit functionality. With the new update, suppliers can now:
Toggle a product (and it's variants) on/off from the store quickly and seamlessly
Track inventory and enter in variant-specific quantities
Set an item In-Stock or Out-of-Stock (which makes is viewable but not purchasable)
With the improved Quick Edit function, suppliers can save time by modifying their items on the go - saving them thousands of clicks each week. Try it out by heading to the Products page on the Freshline Dashboard.
---
We hope you enjoy these updates.
We're excited to continue expanding our footprint across North America - where food businesses, big and small - trust Freshline to establish their ideal e-commerce storefront.
As always, please reach out if you have any questions, comments, or requests. We love hearing from you!
Joseph Lee, Co-founder